SofA is a festival organized by the City of Gdańsk, the Polish Film Institute, the European Solidarity Center and the Polish Baltic Philharmonic.
[See the second part of our report here]
Artists from all over the world, different culture & fields meet to celebrate art, ideas and people.
The thematic of this year Solidarity of Arts festival is COURAGƎ, or ODWAG∀ in polish. The courage to one's own opinion even if liberty and life are in danger. The courage to make art as a weapon against populism, nationalism or dictatorship. The courage, via art, to speak about subjects that upset people to change society for the better.
This year symbolic hero is Ołeh Sentsov, a Ukrainian film director, a writer, a documentary director, and a Euromaidan participant. He was accused by the FSB – Russian Security Service – to be a terrorist and to plot an attack. He was arrested after the annexation of Crimea and sentenced to 20 years in prison during a fake trial.
"If we are supposed to become nails in the coffins of a tyrant, I'd like to be one of those nails. Just know this particular one won't bend" – Ołeh Sentsov
He was awarded the European Parliament's Sakharov Prize in 2018 and he quickly became a symbol of the struggle for the release of political prisoners around the world. He will join the winners of the Neptune award which praise the artists whose life and creative work reflect the values of freedom and solidarity.
Clic on the picture to see the gallery
The first evening of concerts took place in B90 with Ben Frost, Holly Herndon and Tangerine Dream.

Ben Frost
Ben Frost is an Australian but Iceland-based electronic music composer who spent the whole 2012 year in the Democratic Republic of Congo to document the bloody conflict there. His audio-visual art installation, in collaboration with Irish visual artist Richard Mosse, was exhibited at the 2013 Venice Biennale.
Ben Frost became well known by the masses with his soundtrack for the german Sci-Fi series "Dark".
His act was in near total darkness, as if he wanted us to deeply feel his music and provoke some visceral response. Loaded with ultra deep powerful bass, our heart was synchronizing with the music's beat, the windows were vibrating so much that one could fear for his/her life by just staying underneath them.

Holly Herndon
Then, it was the turn of Holly Herndon, who is an American composer, musician and sound designer now based in Berlin. She is reflecting the major social changes in our society into her music. Her last opus, PROTO (2019). For this album, she created an AI with the help of her partner Mat Dryhurst and programer Jules LaPlace.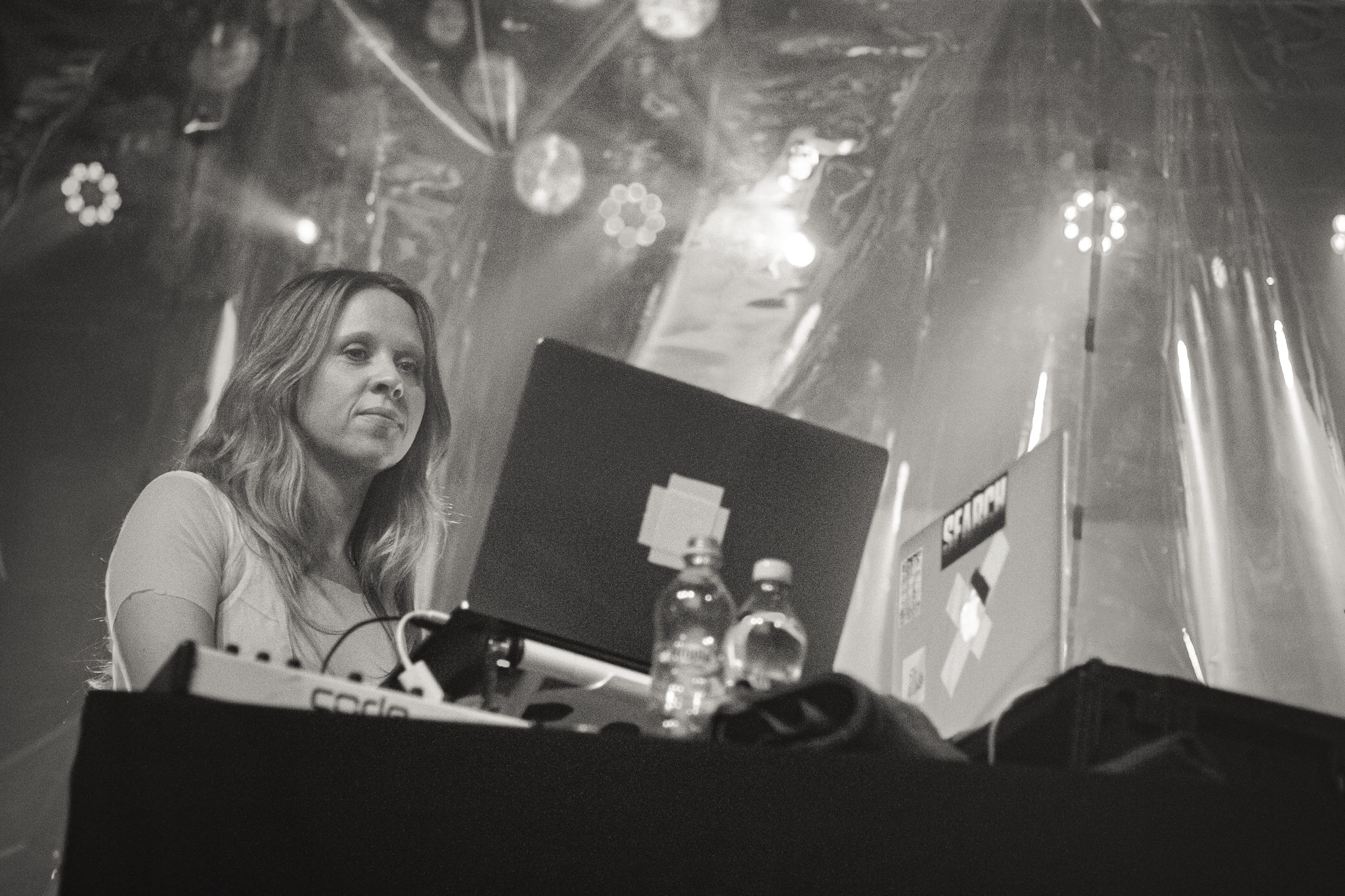 Herndon spent her youth singing in a church and secular choirs. Hence the choice of having 3 ladies singing as if it was a choral. Human and synthetic voices together rather than being apart.

Tangerine Dream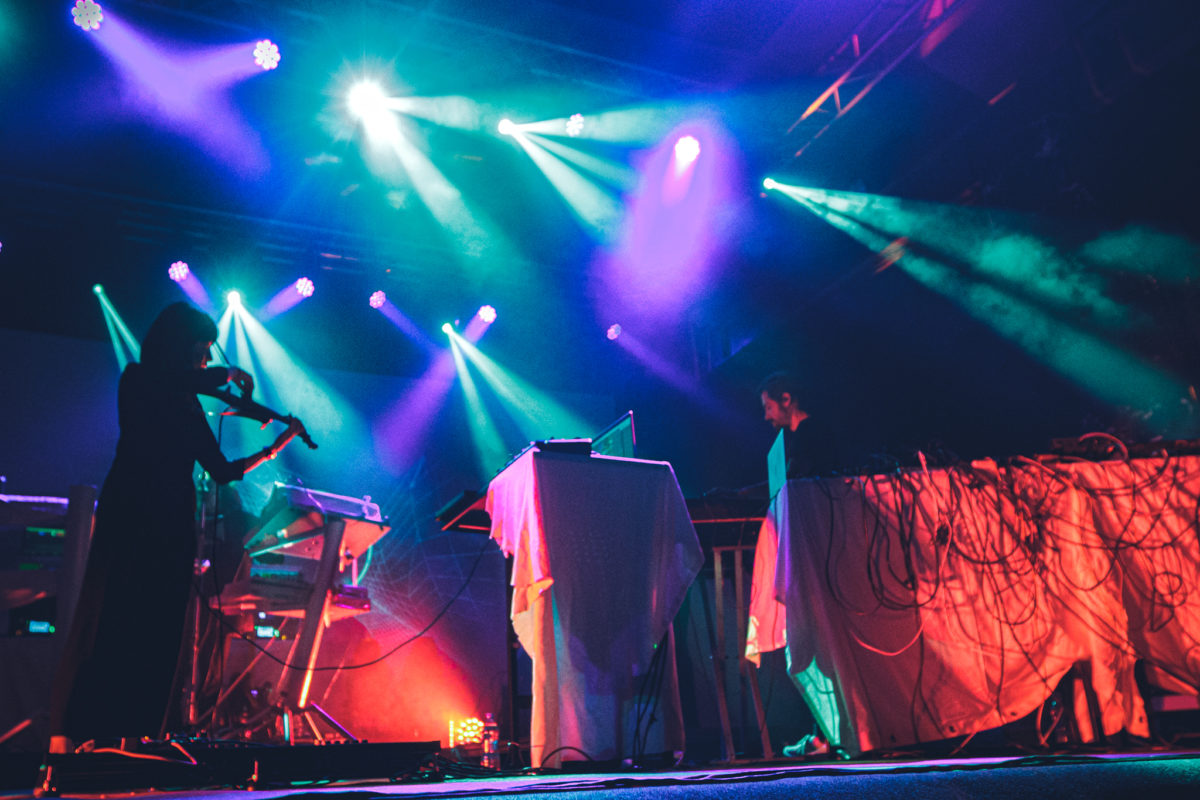 The main act of the evening, the band that everybody in B90 was waiting for. And even if the actual line-up has nothing to do with the original one, the influence of late Edgar Froese continue to inspire the remaining trio.
Thorsten Quaeschning along with electronic musician Ulrich Schnauss and cellist/violinist Hoshiko Yamane, and another guest musician Paul Frederick, presented a resumé of 50 years of Tangerine Dream.
They have undoubtedly an unique sound and have inspired generations of musicians and were pioneers of the electronic music. They showed us why that evening. Why their music was so inspirational for others.
I remember watching on french TV some Tangerine Dream set-up during their early concerts, an entanglement of cables going everywhere around 3 guys playing for hours pieces of music. Pulsing and propulsive rhythms, ambient or ecstatic, long and explorative, it was a total immersion into the sound of early synth the size of a cabinet. It was mesmerizing to watch them.
Now, they have modern computers & synths. Lot of them. Even so, you could see some reminders of the early days, behind Quaeschning. A box with cables and blinking leds.
Clic on the picture to see the gallery
Credits & Sources: wikipedia, solidarity of arts